200hr Yoga Teacher Training Program
Advance your practice, your teaching and your life. 
---
#1 Yoga Teacher Training in Australia
This certified yoga teacher training program is a two month part time yoga course offering Yoga Theory's most extensive teacher training to date. With over 200 hours of fully interactive yoga coursework, this is one teacher training you can't afford NOT to take.
Are you ready to become a yoga teacher?
Yoga Alliance Approved
Focused on Yoga Anatomy
Focused on the Business of Yoga
Focused on Teaching Yoga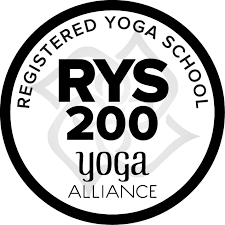 ---
Course Dates – Adelaide, SA
2022
Monday 17th October – Friday 9th December
Monday, Wednesday's and Fridays from 9:00am – 4:30pm
Registrations opening soon
Pre-registrations open, enquire below. 
Info Session:
TBA
---
What's Included
Yoga Theory Teacher Training Handbook, Printed Manual
Yoga Anatomy Textbook
Hatha Yoga Textbook
200hr Yoga Alliance Certification
Unlimited Yoga Practice at Yoga Theory for Course Duration
Prerequisites
It is recommended you have at least 1 year experience in practicing yoga
Make sure our style and brand fits with you
Course Fees
$3500
Registration Deposit – $1000
Payment plans available
Register your interest and learn more here
---
Who will teach the yoga teacher training course?
You will primarily learn this course by Ben Greenwood.
Ben is an experienced registered yoga teacher with Yoga Alliance, graduate from Adelaide Law School and the director of Yoga Theory. He completed his yoga teacher training in India focusing on hatha and vinyasa yoga in 2016 and is the former president of the Adelaide University Yoga Club.
---
Why choose to do a yoga teacher training with Yoga Theory?
We will teach you the foundations of everything we do, so that you can teach yoga in a way that is proven to be effective in the marketplace. You will gain access to the most comprehensive and relevant yoga content available that will directly advance your yoga practice and your life.
You will learn directly from Ben who has been involved in setting up yoga studios and brands from scratch and is an E-RYT with over 4000 yoga classes. Even if you don't plan on teaching yoga, you will get deeper in to your yoga practice and understand how it works thoroughly.
You'll graduate from a well respected, contemporary yoga studio with the skills to directly impact your personal growth as a yoga student and income as a yoga teacher.
---
Module 1: Yoga Techniques, Training and Practice
Practical component
This part of our yoga teacher training is designed to condition your body and get you familiar with yoga alignment and techniques. You will be required to complete a series of physical focused yoga classes and workshops.
The first part of the practical component will be a dedicated to traditional yoga practice focusing on meditation and hatha yoga. The second and main part of our practical module will be dedicated to learning and practicing vinyasa yoga.
We will also have a series of sub-modules focusing on different hatha and vinyasa yoga techniques. For example, workshops dedicated to teaching beginners yoga, advanced yoga and the use of blocks and straps.
This component helps you become proficient in the physical practice of vinyasa yoga including:
Seated and kneeling poses;
Backbends;
Twists and binds;
Inversions;
Transitions and sequencing.
Seminars, lectures and course work
The theoretical component of this module covers different topics focusing on traditional yoga, yoga philosophy and the history and context of yoga. This will relate to the practical component to give you a holistic view of how yoga works on a deeper level.
We will also look in to the major types of yoga and the fundamental themes of them all and how they relate to vinyasa yoga. We do this by breaking down a vinyasa practice in detail. We also explore the categories of asanas as well as sub-modules on hatha yoga and ashtanga vinyasa yoga.
You will learn our complete hatha and vinyasa flow sequences including our abs, butt and arms; balance and stretch; and vinyasa flow class. We will teach you all of the important foundations for teaching both traditional and modern yoga.
Module objectives:
Gain a deeper understanding in to the history and context of yoga;
Become competent in both hatha and vinyasa yoga techniques;
Learn how to sequence advanced yoga, yin yoga and use blocks, straps and props.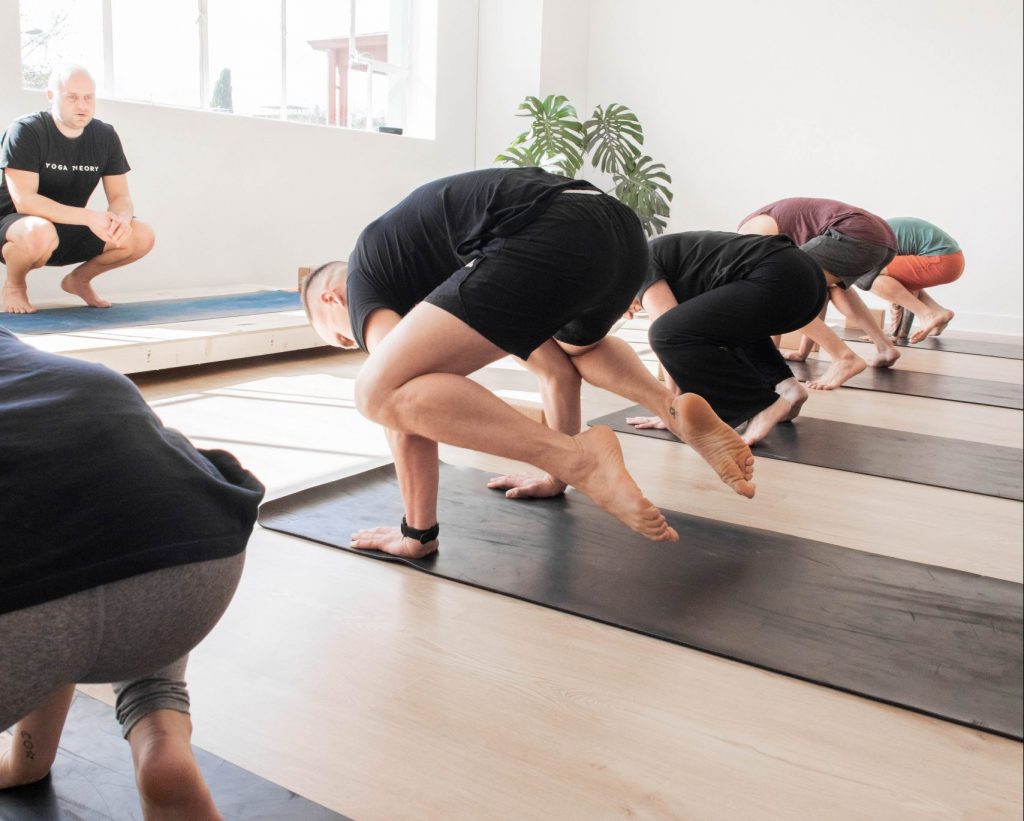 ---
Module 2: Teaching Methodology and Practice
Learn the principles of teaching yoga
This module is all about helping you graduate our course with the confidence to run your own group and private yoga classes.
Through a series of seminars, lectures and workshops we will teach you the skills to hold the attention of a group, and to teach yoga safely. You will learn about group dynamics, class structuring and the common risks involved in teaching yoga to both individuals and groups.
We will help you find your own style of yoga class and and how to teach that to the public. We explore the qualities of a good yoga teacher and help you develop confidence in assisting and correcting yoga students. You will be required to teach your own classes over the yoga course.
Module objectives:
Understand the different learning styles with reference to language, voice and class styles;
Learn to teach yoga effectively and authentically with diligence, attention and care;
Define your own yoga classes and how to teach them to different levels.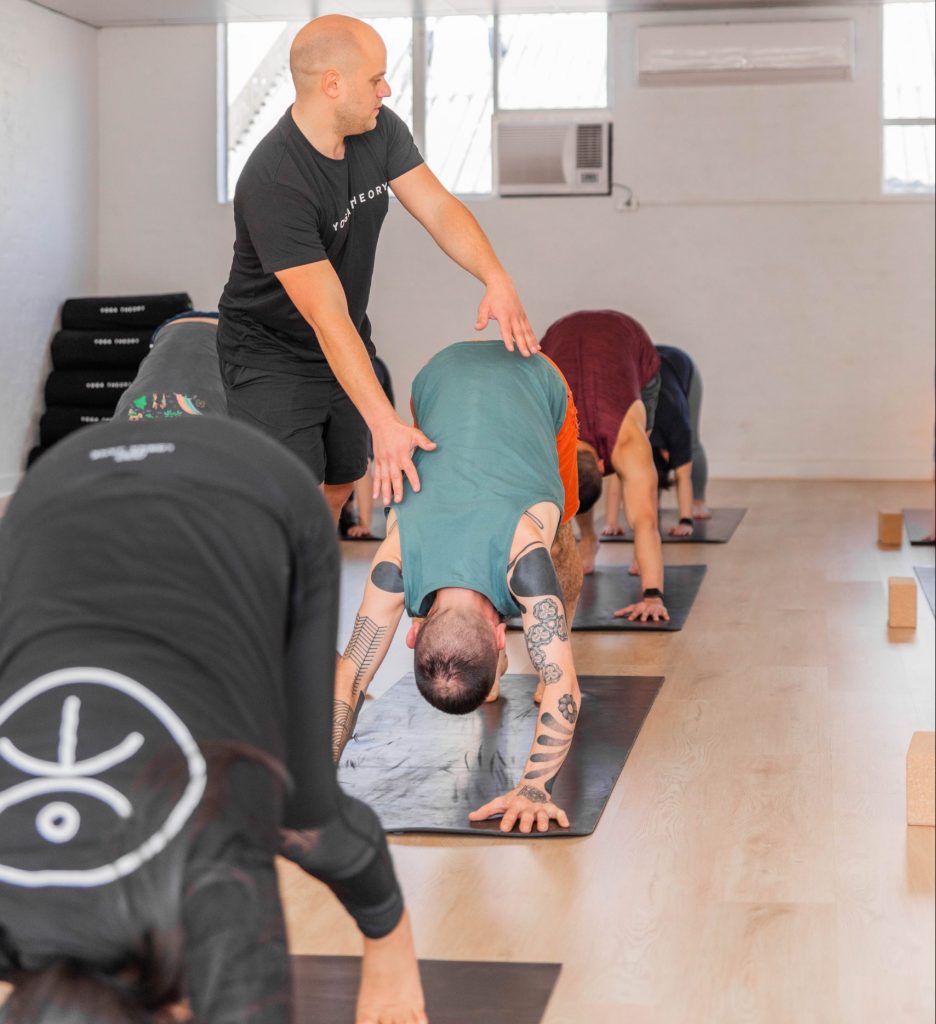 ---
Module 3: Anatomy and Physiology
Learn exactly how yoga works, for different people
In this module we break down the science of yoga focusing on the breath, muscular and skeletal system. We will have a series of lectures, seminars and workshops with compulsory readings. The course module materials are designed to help you understand exactly how hatha and vinyasa yoga works.
You'll become familiar with all of the important anatomical alignment techniques, as well as how to work around the 'danger poses.' We teach you how to effectively use yoga props such as blocks, straps and bolsters. We do this so that you can provide a safer learning environment for your students.
You will understand how a yoga practice influences bodily functions and the certain therapeutic benefits of our focus poses and yoga sequences. We look in to how the body works by focusing on the endocrine, immune, lymphatic and nervous system.
Module objectives:
Understand how anatomy applies and influences a yoga practice;
How to sequence and design yoga classes for certain physiological outcomes;
Become familiar with how different body types influence and are limited by certain yoga practices;
Understand how a hatha and vinyasa yoga effects the breath, skeletal and muscular system.
---
Module 4: Lifestyle, Ethics and Philosophy
Understanding, teaching yoga
This module covers the 'soft skills' that are required to be a good yoga teacher.
We will look in to the foundations of yoga philosophy and how it developed with a focus on it's history. We also explore the Yoga Sutras of Pantajali and explore the different koshas, mantras, yamas and niyamas through a lecture and discussion.
You'll also learn what it means to be in a position of authority and influence over your students, and how to be a good leader. We explore the ethical and legal obligations around that with a focus on the duty of care for yoga teachers.
We will focus on the importance of lifestyle for yoga teachers including goal setting, finding purpose and our top 10 effective yoga teaching principles.
Module objectives:
Understand the historic and philosophical context of yoga;
Understand the role of yoga teaching and how that changes within different teaching contexts.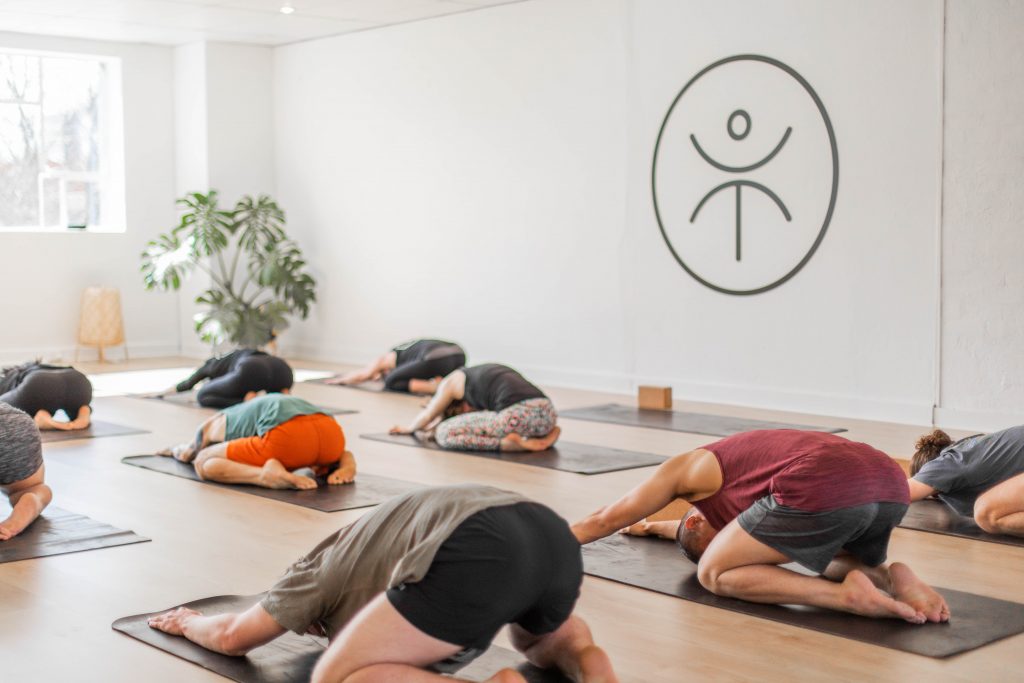 ---
Module 5: Business of Yoga and Practice
Turn your passion in to a business
This module gives you all the tools necessary to actually start teaching yoga, and to start your own small yoga business. To do this, we give you tips on finding your first yoga teaching job, creating your own niche in the market and how to sell yourself.
You'll also get our complete guide on how to market yourself effectively and get more yoga clients (Read our Top 5 Tips Here).
We will give you an inside look in to how the yoga teaching market operates and how to value your services and your time.
Module objectives
Learn how to take direct and indirect feedback and adapt yoga styles to individual and group levels;
Understand the foundations of insurance, contracting and class scheduling;
Become competent in marketing different yoga products and services mindfully and ethically.
---
Yoga Alliance Certification Requirements
For your Yoga Alliance Certification you need to complete all of the course materials to the standard of a reasonable practicing yoga teacher. You will need to meet the required contact and non-contact hours. You will also need to pass both the theoretical and practical examinations.
If you do not complete the modules required, or satisfy the module objectives, we cannot give you our certification. Make up sessions may be credited for genuine reasons.
---
Here is our resource to learn more about how is yoga in Australia regulated?
You can learn more about our yoga studio here
Register your interest and learn more here